2021 Spring Festival Feast of Tabernacles
UPDATE: DUE TO CURRENT RESTRICTIONS WE HAVE ARRANGED AN ALTERNATIVE FORMAT. AN ONLINE EVENT HAS BEEN CREATED. PLEASE SEE REVISED PROGRAM BELOW AND USE THE "CONTACT US" DETAILS ON THIS WEBSITE AND WE WILL GIVE YOU THE DETAILS OF HOW TO JOIN.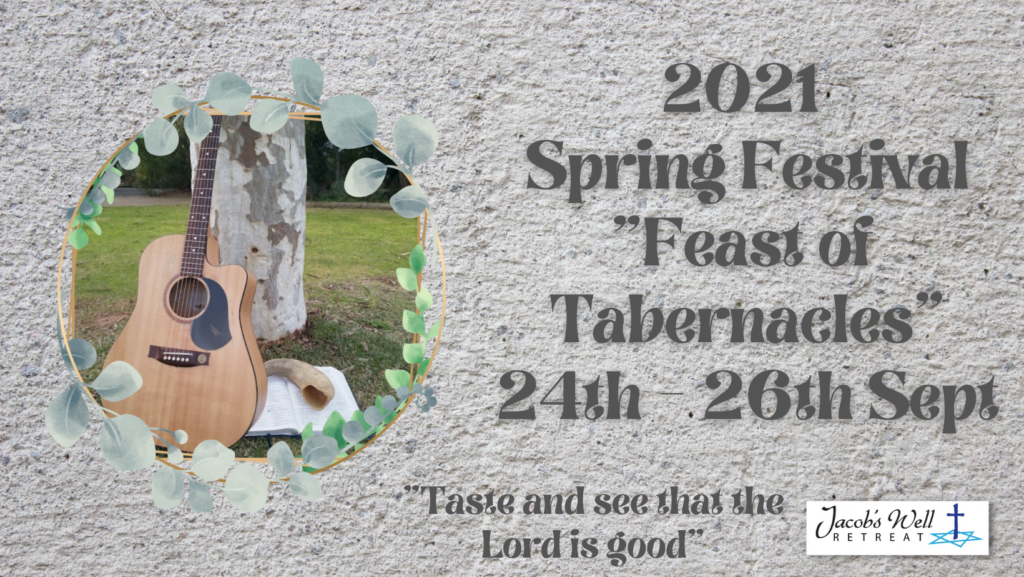 Every year since God brought the Hebrew people out of Egypt they have celebrated "Sukkot," most widely known as Feast of Tabernacles, or Feast of Shelters, to remember how God dwelt among them in tangible and miraculous ways as they wandered 40 years through the wilderness, living in tents. Also known as Time of our Joy and Holiday of Gathering, this feast prophetically looks forward to the time when Jesus will return and dwell among us. So join us for a relaxed weekend gathering of music, teaching, and friendship, as we celebrate that God has always dwelt with His people and we joyfully look forward to the coming of our King, Jesus.
Speakers: Chris Slade, Kym & Faye Kingdon & others.
Music: Kingdom Worship Culture (TBC), Bloom Song Reflector & others.
Accommodation Options: (Must be booked separately)
Jacob's Well Retreat:

Cabin: 4-5 berth with separate main bedroom. Includes En suite, air con & bed linen.
Bunkhouse: double or twin-share rooms. Air con, bed linen. Shared toilet & shower facility.
Please bring your own towel.
Tent or swag. (Get the full Tabernacle experience!)
Caravan/Camper Trailer

Murrayville Caravan Park. Ph 0457 241 186
Mallee Fowl Hotel/Motel, Murrayville Ph 03 50952120
Costs & Registrations:
There are 3 ways you can register:
Email your Name, Address, Mobile, special dietary details, accommodation preference & length of attendance to: kingdon@jacobswellretreat.com.au (Details are required for each attendee.)
Phone Kym on 0429184841 or Faye on 0418774055
There is no registration fee for this event. It costs you to get here! If you wish to donate to help cover costs you can either:
Make a cash or cheque donation at the event (Made out to Barefoot Ministries)
Use the donation option through the Trybooking link when you register
Online transfer to Barefoot Ministries, BSB 633 000 Acc No 160505533
Volunteers needed:
Cooks, kitchen helpers, BBQ cooks, prayer warriors & general helping hands.
2021 SPRING FESTIVAL ON-LINE PROGRAM
| | | | |
| --- | --- | --- | --- |
| | VIC Times | | SA Times |
| Fri 24th Sept | 8.00pm -10.00pm | Worship & Speaker. Significance of Israel. Kym & Faye's visit to Israel. | 7.30 – 9.30pm |
| | 11.00pm-01.00am | ICEJ Feast of Tabernacles LIVE – Online Prayer for the nations, focusing on countries in crisis. With Rick Ridings of Succat Hallel | 10.30pm-12.30am |
| Sat 25th sept | 10.00am-12.00noon | ICEJ Feast of Tabernacles – VOD Session TBA | 9.30am – 11.30am |
| | 2.00pm -4.00pm | ICEJ Feast of Tabernacles – VOD Session TBA | 1.30pm – 3.30pm |
| | 4.00pm – 7.00pm | Worship Music Elisha Francesca, Kym & Faye Kingdon & more. | 3.30pm – 6.30pm |
| | 8.00 – 10.00pm | Guest speaker, Chris Slade: "Mystery of Godliness, Mystery of Lawlessness." + Q & A. | 7.30pm – 9.30pm |
| | 10.00-1.00pm | ICEJ Feast of Tabernacles LIVE – City of the Great King, from the TBN Studio | 9.30pm – |
| sun 26TH SEPT | 10.00am-12.00noon | Prayer & worship – Sending out! | |
Things to do: Whip cracking, log splitting, push carts, campfire cooking, campfire music/singing, praying, fellowship, table tennis, volleyball, bush walking, coffee or playing with Topaz the dog!
Ways to Celebrate Spring Festival at Home:
Register for the International Christian Embassy Jerusalem's Feast of Tabernacles Online event. You can enjoy live streaming of celebrations in Jerusalem, including live worship, world renowned speakers and much more. Register here.
Build a Sukkah. A sukkah is a temporary, hut-like dwelling built during the Feast of Tabernacles – also known as Sukkott. (In fact, the word sukkot is the plural of sukkah.)
The sukkah symbolizes the frail huts in which the Israelites lived during their 40 years of wandering in the desert after the Exodus from Egypt. It also serves to remind Jews of the biblical account of how God protected them, provided for their needs in the wilderness, and by implication, still watches over us today.
Sukkot come in many variations and they all look different, but there are some guidelines to follow when building a sukkah. Two important ones are:
A sukkah must have two and a half walls. Only one can be an existing wall, like the side of a house. The walls may be constructed of any material, generally canvas, wood or metal.
The roof must be temporary, covered with loose branches from trees or anything that grows out of the ground and has been cut off from the ground. According to tradition, this roof covering, should give shade while also allowing those in the sukkah to see the stars through the roof at night.
Get your older children involved in planning & construction. (Keep it simple & inexpensive – its only temporary) & the younger ones can help decorate.
Decorate your Sukkah. Decorate it by hanging fruit, paper lanterns and other items from the roof, putting posters and paper chains on the walls, and even laying carpet on the floor.
Sleep in your Sukkah! That's what its there for! How long is it since you slept under the stars? It will be a great experience (weather permitting!) and allow you to meditate on the experience of the Israelites depending on God for their every need as they wondered in the wilderness for 40 years.
Ideas for the kids:
Involve your children or grandchildren by building and decorating your sukkah together. Paper Lantern instructions. Paper chain instructions.
Let the kids build a sukkah of their own using chairs and sheets.
Tell/read Bible stories from the time of the Red Sea through to the fall of Jericho.
Cook up some Spring Festival Treats.
Feast of Tabernacles is celebrated during the northern hemisphere's fall (autumn) so autumn fruits & veggies are traditional foods for Sukkot. eg pumpkin & apples.
Anything stuffed! eg stuffed eggplant, stuffed tomatoes, also stuffed pastries such as pies and struedels.
Remember to avoid the forbidden foods like pork, bacon, shellfish, fish without scales etc (See Deuteronomy 14)
Eating meat and dairy together is not kosher.
There are many rules to kosher food, probably too many for us to try and abide by, and besides, we do not want to be legalistic about this. The aim is to celebrate with foods that bring joy!
Two traditional recipes are included below.For some other great recipes click here
Noodle Kugel
230g wide egg noodles
55g unsalted butter cut into small pieces, room temperature
55g cream cheese, room temperature
55g sour cream
¼ cup granulated sugar
½ teaspoon vanilla extract
½ teaspoon cinnamon (optional)
230g cottage cheese
2 cups milk, warmed
3 eggs, well beaten
½ cup raisins
Preheat the oven to 160˚C, and butter a 23 x 33cm baking dish.
Bring a large pot of water to a boil, and add a generous pinch of salt.
Boil the egg noodles until they are al dente, about 5 minutes. Drain and transfer to a bowl.
Add the butter and cream cheese. Stir well, allowing for the warm noodles to melt the butter and cream cheese.
Stir in the sour cream, sugar, vanilla, cinnamon, cottage cheese, warm milk, eggs and raisins.
Pour the noodle mixture into the prepared baking dish, and bake until the kugel is set, about 1 hour and 10 minutes.
Allow to cool for about 10 minutes before serving.
Challah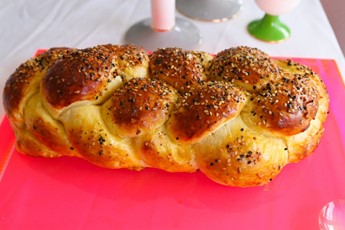 PREP TIME4 hrs
COOK TIME30 mins
TOTAL TIME4 hrs 30 mins
INGREDIENTS
2¼ teaspoons active dry yeast 1 packet
¾ cup warm water about 100 degrees
½ cup sugar
1 large egg and 3 egg yolks plus one for glazing
¼ cup vegetable oil
¼ cup honey (Trick, measure the honey after the oil and it will slide right out!)
3¾ – 4½ cups bread flour or all-purpose flour, plus more as needed
1½ teaspoons kosher salt
INSTRUCTIONS
First, prepare the yeast by mixing the yeast with warm water and 1 teasooon sugar in a large bowl or the bowl of a stand mixer and whisk until smooth. Let yeast stand until it puffs up, about 10 minutes.
Whisk in the 1 egg and 3 egg yolks, oil and remaining sugar and honey into yeast mixture until incorporated. Then about half of the the flour and then the salt and mix into a ball with a wooden spoon or dough hook. Knead until smooth, about 7-10 minutes, adding more flour as needed (pun intended). You may not need all the flour. Or you may need a little more. You want your dough to be soft and tacky. Don't add too much flour. It will also get less sticky as it rises as the gluten activates.
Place the dough in a warm, cleaned bowl and cover with a towel. Let the dough ferment until it has doubled in size, about two hours.
Line a baking sheet with parchment paper and braid as designed.
Cover and let rise another 45 minutes or so until it's light and fuffy looking (exact proofing timing for challah will depend on environmental conditions.) Meanwhile, pre-heat the oven to 350 degrees F.
Whisk the last egg yolk with 1/2 tablespoon of water and brush generously all over the challah (I do two coats, you can top with sesame seeds or sprinkles or whatever!) and bake for 35 minutes or until golden brown. Tent the challah with foil if it starts to brown too much on the top.
Newsletter Sign up
If you would like to subscribe to our monthly Newsletter please fill in your details below:
If you would like to donate towards either of these missions please go to our Contact/Donate page