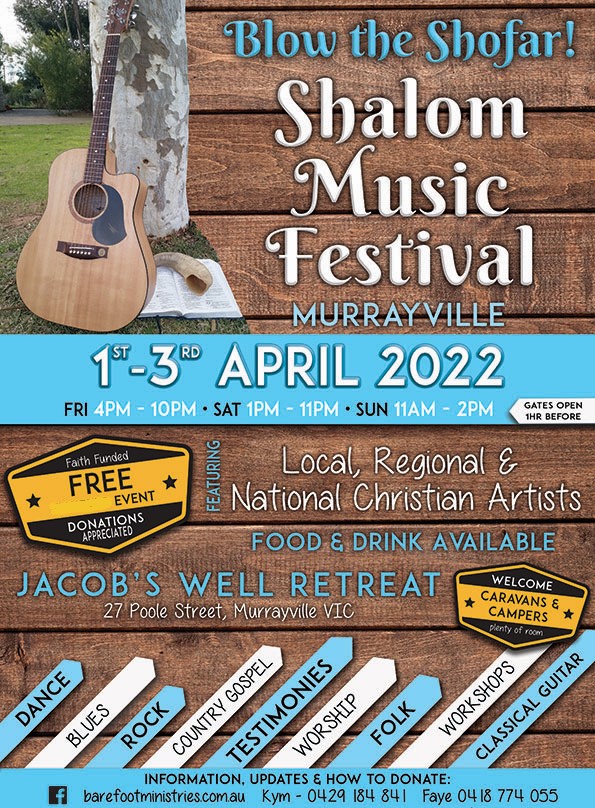 Once again, we are preparing to bring together a host of talented, passionate, faith-filled musicians for a weekend of music, fun & fellowship.
We have many artists coming back again for their second or third festival, plus some very exciting talent new to Shalom Music Festival.
Not Long to Go!
​Dates & times:
FRIDAY 1st APRIL: 4pm – 10pm
SATURDAY 2nd APRIL: 1pm – 11pm
SUNDAY 3rd APRIL: 11am – 2pm
We will be running things a little differently this year by making it an invitation only event. 
We still want as many people to come as possible but we need anyone wishing to come to contact us so we can send them an invitation. 
Once you have registered your interest we will send more information regarding accommodation options, meal arrangements etc. 
A registration of interest is not a firm commitment, but it allows us to send you an invitation with further information.
Doing this as soon as you can will be a great help with our planning!
To register your interest please send an email with names to:
Newsletter Sign up
If you would like to subscribe to our monthly Newsletter please fill in your details below:
If you would like to donate towards either of these missions please go to our Contact/Donate page