2020 WILD MEN – MINI BOOT CAMP
(Part 1)
Friday 21st – Sunday 23rd August
RESTORING THE RAW, REAL, RECKLESS & RELENTLESS WARRIOR HEART OF GOD IN MEN!
Aim:
To create a safe place for blokes to come aside for weekend to share & learn what it takes to be a "Wild Man of God. Based on JOHN ELDRIDGE'S 10 SESSION

"WILD AT HEART"

BOOT CAMP SERIES
To resurrect, equip, strengthen & stir-up the MIGHTY MAN. To become a warrior, first become a son of God.
Content:·
20 – 30 Wild Blokes with Hungry Hearts!

SESSIONS 1 – 5 FROM JOHN ELDRIDGE'S

"WILD AT HEART"

BOOT CAMP VIDEO SERIES.
"Carry the Cross" Pine Hill Adventure (3-4 hours)
"Barefoot Blokes" worship
Campfire Testimonies (3-4 time slots)
Log splitting, whip cracking, table tennis, other……catching lions???
Program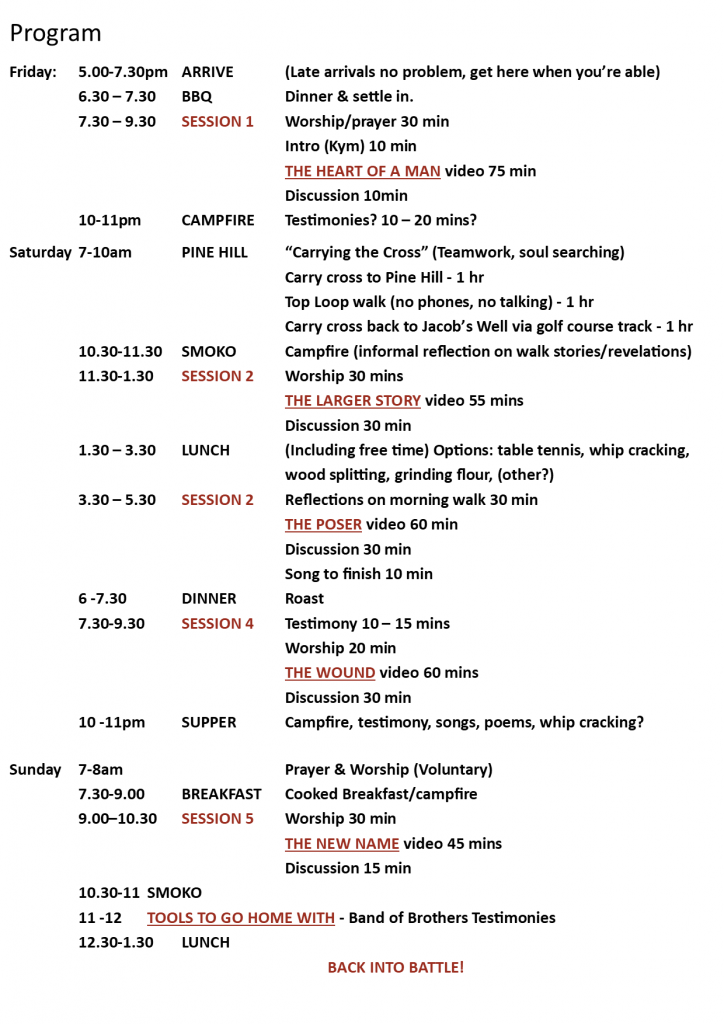 Volunteer Jobs:
Campfires: 2 – 3 people
Cooks: Friday BBQ 2 -3 people & & Sunday Morning Breakfast 2 – 3 people
Kitchen & dishes/clean up/ bins: Everybody.
Chapel: Chairs, tidy, tea coffee corner. 3 – 4 people
Smoko duty: 2 people
Food Donations -Looking for:
Fruit & veg (home grown, local, organic)
2 dressed sheep (local or organic) Supplied. Thank you Darren
Bread rolls or pizza bases (home-made)
Cake/muffins/desserts (home-made)
Costs: $30pp/night shared room, $10pp/night camping
Donations & Offerings welcome. There will be opportunity to give during Fri & Sat night sessions, or go to https://barefootministries.com.au/contact-donate/
Questions to ponder:
What is your greatest struggle?
Have we been emasculated? If so, how much?
Do we know the Word? & Do we really believe every word of the Word?
Is our faith in Jesus, or is it in ourselves, or the church, or a Pastor, or money?
Are we the "rich Men" Jesus talks about? (We even have a house for our cars!)
Are we on team Jesus? If so, are we in the game, on the bench or just a spectator?
Newsletter Sign up
If you would like to subscribe to our monthly Newsletter please fill in your details below:
If you would like to donate towards either of these missions please go to our Contact/Donate page