2021 Shalom Music Festival
19th & 20th March

Jacob's Well Retreat, 27 Poole St Murrayville, Victoria
A live, outdoor music event promoting a broad spectrum of Christian music. A platform for 'undiscovered' Christian singer/songwriters as well as experienced, professional artists, to display their talents.
Open to music lovers everywhere, promoting Christian music as a vibrant, positive choice! A wonderful opportunity to visit a small community and soak up some great music.
Dates & Times:
Friday 19th March, 4pm—10.30pm GATE OPENS AT 3PM
Saturday 20th March, 1pm—11.pm GATE OPENS AT 12 NOON
Tickets:
Adults $10/day or $15 for 2 day pass
Children (5—16yo) $5 for 2 day pass
Pensioners $5/day
Tickets on sale, from 17th February, to purchase click here:

Artists:
We are currently busy putting together a line up of talented Christian artists for our 2021 music festival. Putting 2020 behind us, we are looking forward to what is shaping up to be a magnificent event!
Performers coming to Shalom Music Festival for the first time include David Thomlinson, Alzanne Eksteen, Elisha Fransesca and Margaret DeGill.
Returning from 2019: K.C. Powerhouse ( Kingdom Culture), Richard Palmer Project, Andrew Phelan, Jacob's Well Collective….. and who can forget the beautiful Saplan family from Lameroo, seeing those kids on stage just won the audience over.
Anthony Moyle, our talented & experienced sound technician , will be back sending the sound waves out over Murrayville.
Program: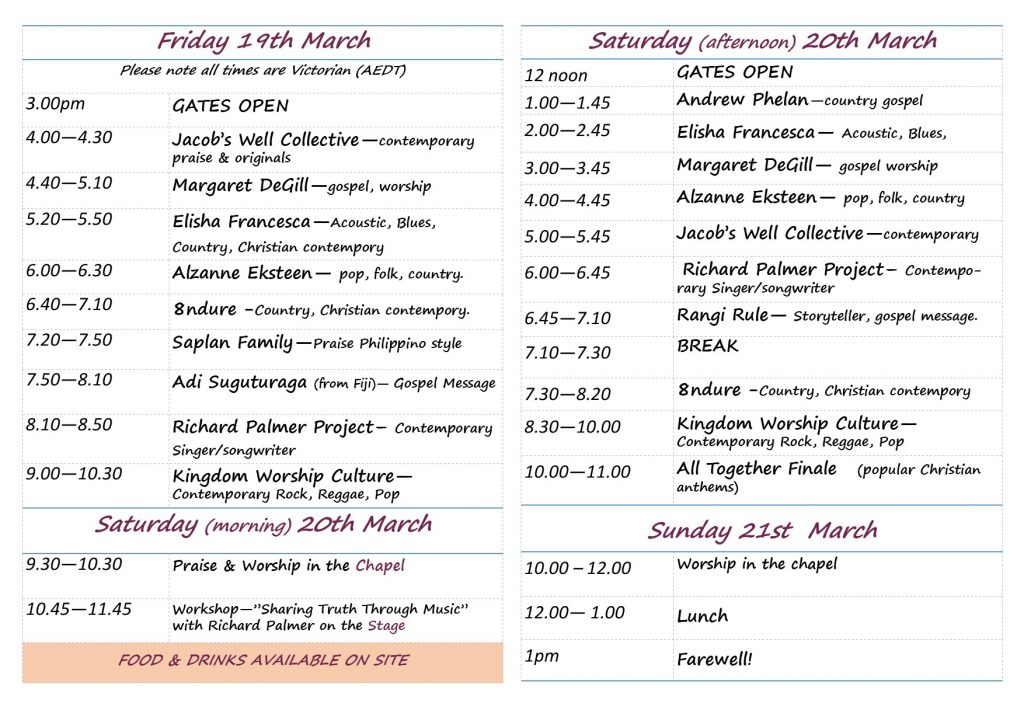 Volunteers
There are still plenty of vacancies for volunteers. We still need help in areas of:
BBQ roster
Food & Catering
Security & Parking
Cleaning & Rubbish
Gate-keeping
Photography & Social Media
Setup & Tear down
If you want to help out or get involved please contact us.
Donations
Offerings/Donations/Sponsorship are very welcome. Funds are needed to help cover costs of sound & lighting, advertising and other running costs. As we currently receive no Grant funding or Corporate Sponsorship, any contributions, big or small, will be gratefully received. There is opportunity to donate when you purchase tickets or you can find our Banking Details on our Contact/Donate page
Accommodation:
At Jacob's Well Retreat we have 11 rooms available, as well as space for caravans and campers.
Priority will be given to accommodate performers & their families/support crews.
Other Options include:
Murrayville Caravan Park, Ph: 0457 241 186
Mallee Fowl Hotel, Murrayville, Ph: (03) 5095 2120
Pinnaroo Motel, Ph: (08) 85778261
Pinnaroo Caravan Park, Ph: (08) 85778618
Golden Grain Hotel, Pinnaroo: (08) 85778009
Pinnaroo Hotel, Ph: (08) 85778007
Looking forward to seeing you there!
Newsletter Sign up
If you would like to subscribe to our monthly Newsletter please fill in your details below:
If you would like to donate towards either of these missions please go to our Contact/Donate page