"Why Wouldn't It Be God?"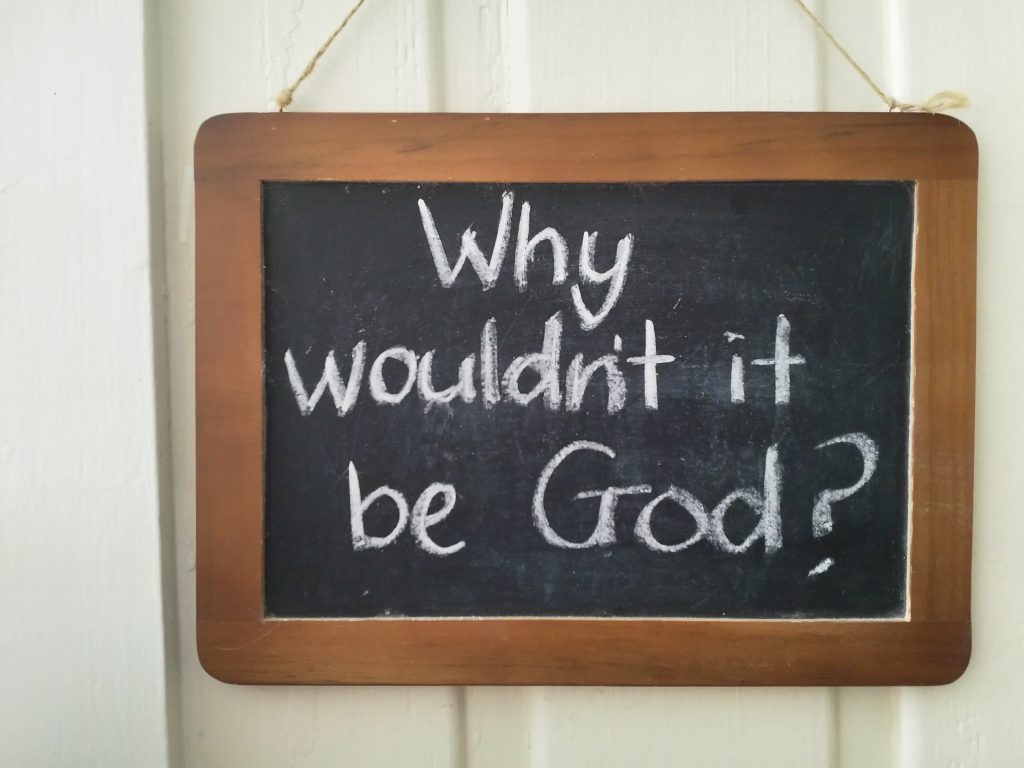 Sitting around our fireplace during the Spring of 2017, an American cowboy gave me a line that has stuck with me ever since, and it's now displayed on our kitchen wall,
"Why wouldn't it be God?"
Immediately prior to these words, a group of us had sat in silence with hearts willing to commune with God and then shared the seemingly insignificant thoughts or images that had come into our minds
Neil Gamble, of Father's Hand Ministries, Washington state USA, explained, "You've just asked God to speak to you, so why wouldn't He?"
We then began to unpack the things that had come to us during that silence and realised that there were indeed treasures from heaven in those thoughts, images and emotions. God had something to say to each of us, but without the belief that He would speak to us or giving it the time needed in reflection, we would have missed it.
God longs to speak to us, many times every day, not just once or twice even.
How wonderful that the Creator God of the universe designed us to be in real relationship with Himself and as with all good relationships, that means two-way communication.
Learning how God speaks to us is an essential part of the journey. For many, who like me, have grown up in and around traditional Church culture we are taught, correctly, that God speaks to us through His Word, but we receive little practical help in learning how He speaks in other ways.
We read in John 10 that we know His voice:
2 The one who enters by the gate is the shepherd of the sheep.3 The gatekeeper opens the gate for him, and the sheep listen to his voice. He calls his own sheep by name and leads them out. 4 When he has brought out all his own, he goes on ahead of them, and his sheep follow him because they know his voice.
27 My sheep listen to my voice; I know them, and they follow me.
If we know who our shepherd is, we will know His voice…. But if we are continually distracted or don't believe we can hear his voice or are set on going our own way we will miss what He is trying to say to us. So, it is important to desire to hear him and rebuke the lie that says we must be super-spiritual to hear His voice.
Let me share an example of one recent communication with Father God:
Less than a week ago, while in that barely awake stage before getting out of bed, I had an image come into my mind. I was awake enough to ask, "Is there some meaning to this Lord?" Immediately I felt I had an answer. Now, the sad part to this story is that I cannot, for the life of me, recall what the image was or what Father's answer was! The lesson here is, WRITE IT DOWN BEFORE YOU FORGET, especially if it comes during the night because nine times out of ten you won't remember it!
Anyway, I do remember the rest of this little "God conversation" ……
I said to Father, (I'm speaking in my thought's not out loud, either way is fine!) "So does every image that comes to my mind have meaning? What are you going to show me next?"
Immediately the image of a tape measure came to mind.
"Okay, what's the tape measure mean?"
Father spoke, "You're always measuring yourself. Stop it."
Wow! That was such a relevant word for me. I often get down on myself because in my mind I don't come up to some standard I seem to believe I must meet. It robs me of joy, condemns me and keeps me from progressing. Many will relate to this and maybe it's a blog topic for another time.
One key point here is that the random thoughts that come to us, seemingly out of nowhere, are often instances of God speaking to us. These thoughts are very different to when we are consciously thinking of an issue and trying to figure it out. Then we can trace several our thoughts that lead us to a conclusion but when God speaks into our thoughts, its more often than not, completely random. We are often not even thinking of the topic at the time.
Also, Father will never contradict Himself. He will not speak things into us that go against His written Word. Always check. We have plenty of thoughts that are not of God, so learning to discern is really important. Sometimes we'll get it wrong but we learn & move on.
We can express Christian beliefs but still not walk in the real relationship that God desires to have with us. I pray you get the revelation that Father God desires a level of intimacy with you that will bring you great peace and help you overcome the things that continually make you stumble. I pray you become secure in the knowledge that Jesus has made this all possible through the cross.
To help emphasize this way God speaks to us, here's an excerpt from Peter Steicke's book, "Suddenly". (Peter's understanding of intimacy with Father God is inspiring. I can highly recommend this book.) It's from a chapter which reveals Peter's first meeting with the very same Neil Gamble, and Peter's introduction to the "Why wouldn't it be God "principle. The lead up to the following conversation is that Peter has just "endured" 2 days of Neil, numerous times rather cryptically asking him, "Watcha hearin'? and Peter at a loss for an answer….
Neil didn't disappoint! With a little smirk, but as intense as ever, he looked me in the eye and said, "So Peter, watcha hearin?"
I prayed. Seriously, that's what I did. "Lord, you have to give me something to shut this guy up. Anything at all. Please?"
The very next thing that came into my mind was our walk a few minutes earlier from the foreshore to the coffee shop. There was new little promenade that I hadn't seen before. It had nice statues, gardens and a path through some bollards. As I was about to go through the path, a council worker was coming the other way with a miniature motorised street sweeper. It was one of those standoffs: "After you." "No, after you." "Ahh, but I insist, after you." So I went through.
As I was passing the council worker I said, "I haven't been here since this work has been completed. They've done a great job." Then, as I went on, I stopped, turned, and said to him, "And you are a big reason as to why this place is so nice. Thanks."
Neil asked. I prayed. The encounter with the council worker is what immediately came to mins. So I response to Neil's "Watcha hearin?" I shared exactly that.
As long as I live I'll never forget Neil's words. They've changed my life. And I pray they change yours.
"Why wouldn't that be God?"
This is why Neil had been patiently chipping away at me all these days. To get to this point.
"Excuse me?" I replied.
"Why wouldn't that be God?"
"But that was just me."
"Well Peter, who lives in you?"
"The Holy Spirit."
"And he longs to communicate all kinds of things to you. In all kinds of creative ways"
Other people had finally joined us at the table and we had an enthralling conversation about how Father God longs to speak to his children.
Peter later quotes the following interaction from a book by Wayne Jacobsen and Dave Coleman, titled. "So You don't Want to Go to Church Anymore: An Unexpected Journey." I think it's a perfect way to finish, as it puts the right perspective on our conversations with God:
Roary: "Do you believe we're good enough to hear God's voice everyday?"
John: "What a question!…. Of course not, Roary. None of us are that good. But I think you're asking the wrong question. Let's phrase it like this: Is Jesus big enough to get through to you every day? Do you think He is big enough to get past your blind spots, overcome your doubts, and show you His way? Doesn't that get a resounding 'yes'?
So, ask yourself, ask your Kingdom family, "Watcha hearin?"
Bless ya,
Faye
Newsletter Sign up
If you would like to subscribe to our monthly Newsletter please fill in your details below:
If you would like to donate towards either of these missions please go to our Contact/Donate page